New Horizons
International Construction Costs 2023
Arcadis is the world's leading company delivering sustainable design, engineering, and consultancy solutions for natural and built assets. We are more than 36,000 people, in over 70 countries, dedicated to improving quality of life.
By bringing together innovative future-facing solutions – alongside our expertise in Design and Engineering, Program, Project, and Cost and Commercial Management – we consider the whole asset lifecycle to create vibrant, healthy and successful places for owners, investors, users, communities and visitors to enjoy.
We've provided annual industry-leading research and insights on construction markets to support our clients for many years. To find out how high inflation and energy costs continue to impact construction – read our International Construction Costs 2023 report.
Download

the report to learn more

By submitting your information, you agree to receive email marketing communications from Arcadis. You'll always have the option to unsubscribe or opt‑in to specific communications by visiting our preference center. View our Privacy Policy.
About the report
Within the report, we have provided insights and profiles of global construction markets, with advice on how to navigate the current climate of high inflation, high energy and material costs, and supply chain uncertainty.
Key highlights include:
London is the second most expensive city in the world to build – find out where other UK and Ireland cities ranked
A review of the economic and environmental events of 2022, and how we can maintain progress on net zero carbon
A comparison to the great financial crisis of 2008 – what lessons can we learn about supply, demand, and opportunities?
Find out more by downloading our latest report.
Contact Us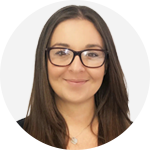 Connect with
Kayleigh Owens
Global Service Director – Cost & Commercial Management