Ga het gesprek met ons aan
Onze city executives hebben een schat aan ervaring op het gebied van duurzaamheid, constructie, stadsplanning, transport en industriële productie. Heb je vragen of wil je een van onze Arcadis-experts spreken? Vul dan het formulier in.
Kom

in contact!

Arcadis is een grote organisatie met ruim 29.000 medewerkers in meer dan 70 landen. Vul het formulier in zodat we je snel kunnen verwijzen naar de juiste persoon.

Door je informatie te verzenden, ga je akkoord met ons privacybeleid.

Je hebt altijd de mogelijkheid om je af te melden of je aan te melden voor specifieke communicatie door ons voorkeurscentrum te bezoeken.
Sinds de laatste SCI, gepubliceerd in 2018, is de druk op steden exponentieel toegenomen. Onze relatie met de stad is veranderd. In de Sustainable Cities Index 2022 stellen we de vraag: welke betekenis geven we aan welvaart in de stad? Welvaart wordt vaak vergeleken met economische productiviteit, maar in een postpandemische wereld is het veel meer geworden dan dat. Om daadwerkelijk welvarend te zijn, moeten steden sociaal en ecologisch duurzaam zijn. En om echte duurzaamheid mogelijk te maken, moeten steden welvarend zijn.
Het doel van Arcadis is het verbeteren van de kwaliteit van leven. Laten we het hebben over wat dit voor jouw stad betekent.
Laten we contact houden
Cécile heeft als business area directeur meer dan twintig jaar ervaring in stedelijke ontwikkeling, mobiliteit en de gebouwde omgeving. Ze geeft binnen Arcadis Nederland leiding aan de business area Places, waar haar team werkt aan slimme duurzame oplossingen voor de gebouwde omgeving en het verbeteren van de kwaliteit van leven.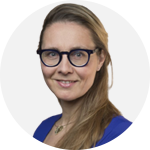 Cécile Cluitmans
Business Area Director Places
Arcadis